Cruising Season 2003
We had two plans for 2003. Plan A was to go down to the British Virgin Islands. Plan B was to go through the Windward Passage to visit Jamaica and Cayman Islands. Plan B won out.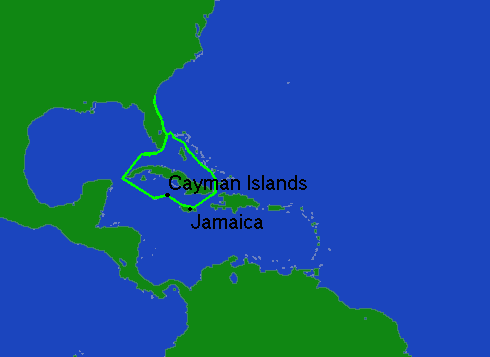 After many delays (one year we'll manage to leave in November) we left Brunswick, Georgia Tuesday, January 14th. We need to get down to at least Palm Beach in Florida before we can set off across the Gulf Stream to The Bahamas.
The Intra-Coastal Waterway is the 'easy' way but it has its challenges for us, because there are many bridges. The many opening ones are OK, but the fixed ones are nominally 65' clearance and we've measured our mast at 64.5'!.
We decided the go out into the ocean for most legs, but we can't go out too far or we'll be fighting the Gulf Stream.
After anchoring overnight close to the marina we went out into the ocean early on Wednesday, January 15th. We had intended just hopping to Fernandina Beach but conditions were so nice we decided to continue overnight to Port Canaveral.
In the early hours of Thursday, we heard Range Control at Cape Canaveral announcing a restricted area near Port Canaveral due to a shuttle launch. We were buzzed by an Air Force helicopter but just managed to leave the restricted area in time. We watched the launch of the ill-fated Columbia shuttle from about 5 miles away.
On entering Port Canaveral we transited a lock for the first time ever, on our way into the ICW. We spent 3 nights in Port Canaveral due to weather, and then did two day trips to Fort Pierce Inlet, and then Lake Worth Inlet.
At Lake Worth we picked up Larry, our first guest, and Friday January 24th travelled down the ICW to Fort Lauderdale. This section of the ICW has no fixed bridges, but around 15 opening ones. It was something a bit different for us.
From Fort Lauderdale we went outside to Biscayne Bay and spent a few days in the Miami area until Larry left on Monday Jan 27th.
We finally left the US on Thursday, January 30th. We had a peaceful Gulf Stream crossing, spent a night on the Bahamas Bank, and cleared in at Chub Cay, Berry Islands.
From there we had a pleasant journey, with generally fair winds, to George Town via New Providence and the Exuma island chain. We arrived Tuesday, February 11th.
At George Town, our luck changed a bit!
First the generator packed up, with broken injector bolts, leaking fuel, etc. etc. We took it into George Town Marine but it took some time to get parts - injector bolts, head gasket, valve seals.
Secondly, we'd been having problems with the starter on the starboard engine, so I ordered a spare at the same time.
We were fixed up and left George Town (the first time) on Monday February 24th.
We spent a pleasant week at Conception Island diving the excellent wall dives on the southwest side of the island.
Thats when I discovered a salt water leak from the exhaust manifold of the starboard engine. I think this leak had been causing the starter problems. We went back to George Town and ordered a mixing elbow.
This duly arrived and we left George Town (the second time) on Thursday March 6th. However, just outside the harbor we had an oil pressure alarm on the starboard engine, and upon inspection the engine room was covered in oil! It seems that the salt water leak had also rotted the oil pipe hidden behind the fuel pump and that had now failed.
So we turned around right away and waited a week in George Town for a new oil pipe! Our third attempt to leave George Town was successful. (March 15th).
We went through Hog Cay Cut, a few miles east of George Town, spent a squally night anchored in the open on the Banks and then went on to Dollar Harbor. In our eagerness to leave George Town we left when perhaps we shouldn't have - squally, unsettled weather was forecast. We paid for this with a bumpy night on the Banks, an uncomfortable passage to Dollar Harbor, and an awful night at South Point, Long Island. Here we were hit by some squalls while anchored with nothing more than a reef to hide behind. There was a wreck on the beach to remind us of what could happen!
After South Point we crossed to French Wells, Crooked/Acklins and spent two nights there. another in the Bight of Acklins, and another off Castle Island at the south end of Acklins Island.
From there we travelled 40 miles to Hogsty Reef, a 5 x 2 mile coral atoll half way between Acklins and Great Inagua. We stayed two nights there and got in two excellent dives on the reef.
Our next destination was Great Inagua where we planned to clear out (Customs) and fuel up. However, Great Inagua has no all weather anchorage, and a front was forecast, so we prudently went back to Acklins and anchored in the Bight of Acklins at Jamaica Bay. The front was a weak one and after one night we left for Great Inagua and sailed overnight.
The extra day's delay made sure that we missed the mailboat day, so the store was out of fresh produce, and the gas station was out of diesel. So after a day in Great Inagua, we left The Bahamas for the Windward Passage on March 27th.
Jamaica
We spent two nights at sea. We sailed along nicely all day and motored much of the night when the wind dropped. As we passed Guantanamo Bay, Cuba, we were called up by the US Coast Guard based there; but they just seemed to want to know where we were going.
We arrived in Port Antonio, Jamaica, on Saturday March 29th. We spent a week there, mainly because a strong front came through and we could see the waves crashing in outside the harbor. The West Harbor was very cozy and free from much chop during this weather. We rented a mooring from the marina and played tourist for a few days. We bought fruit in the market, rented a car to tour the Blue Mountains, and took a ride down the Rio Grande on a long bamboo raft. We preferred Port Antonio to Montego Bay where we went subsequently.
We left Port Antonio on Saturday April 5th, after the seas had settled. We stopped overnight at Oracabessa Harbour (where the local kids enjoyed themselves swimming under our bridge deck) and Rio Bueno. We arrived in Montego Bay Monday April 7th and anchored with some difficulty off the Yacht Club. The harbor area, which read well in the cruising guide was in fact full of moorings and a few wrecked boats! We were more settled after a day when another boat left and we took their spot; but we were still very near the Cruise Ship dock.
We spent five days in Montego Bay and spent it diving. There are several mooring buoys just outside the harbor, near the airport and within dinghy range. We had to dodge around lots of tourist snorkeling boats, but the diving was quite good.
We left Montego Bay on Saturday April 12th and stopped at Negril, at the westernmost point of Jamaica. This is a nicer tourist destination than Montego Bay but as we had already cleared out of Jamaica, and planned to leave for the Caymans, we had time for only one dive in the morning before we left.
Cayman Brac and Little Cayman
We sailed overnight from Jamaica and arrived in Cayman Brac on Monday April 14th. Overnight the wind and seas kicked up unexpectedly and the trip was quite bumpy. We had been told that the Port of Entry for Cayman Brac was on the northwest side but when we got there it was too rough to anchor or tie up. We sailed around to the southeast side where is was still fairly rough. A local dive boat directed us to a large mooring (used by liveaboard dive boats) and we settled down for some sleep.
Later that afternoon, Customs called us on the radio and agreed to meet us at a dive boat dock for the paperwork. In addition to filling forms for Customs and Immigration, we had to ferry out to the boat two guys who sprayed it with insecticide. They got pretty wet in the dinghy!
Following a suggestion from the Customs guy, we checked out the lagoon which the dive boats used and decided we could just fit in. We had to carefully work our way through shallows and moored dive boats, but eventually we were safely anchored behind the reef. We stayed there five days and dived every day, leaving the lagoon in our dinghy and going to sites up to 3 miles away on the south side of the island. Great diving!
On the island we found one (expensive) restaurant and a well-equipped grocery store a two mile walk away. The only other places around were hotel or apartment resorts, most with their own dive or fishing operations.
On Friday April 18th, we left Cayman Brac and sailed 10 miles to Little Cayman where we anchored in a larger, but shallower, lagoon behind the reef. This has a reasonably easy and marked entrance but in a southerly swell it was scary and we were shut in by sea conditions a couple of times.
We spent over two weeks at Little Cayman. The best diving in the Cayman Islands is Bloody Bay Marine Park which is just a few miles from the lagoon around the other side of the island. We made ten dives in Bloody Bay, sailing back the the lagoon each evening. The local dive boats could make two trips there a day, but for us it was a full day excursion. We were always the last back!
We also tried out some diving on the south side from our dinghy. These were good, but not nearly as good as Bloody Bay, in terms of topology, and quantity of fish, sponges and corals.
On the island we again found one restaurant and a smaller but good grocery store quite near our anchorage. Little Cayman also has a large colony of red-footed boobies and a colony of frigate birds.
To clear out we went back to the port of entry on the north side of Cayman Brac. (Little Cayman has no customs.) The dock was occupied with the schooner Wolf from Key West (more of this later) and so we decided foolishly to tie up to a big steel barge mooring buoy. Unfortunately, we misjudged this maneuver and damaged the starboard bow. We removed a 4" diameter area of fiberglass just above the waterline but luckily it didn't seem to go right through. We patched it with epoxy putty and this has stayed in place all the way back to the US. This has brought forward our next scheduled haul-out!
We cleared out but then delayed overnight to let the epoxy set. Next day, we did a dive on the north side of Brac just to check it out. It wasn't great. Also our problem was finding an anchorage that we could trust. It was rock everywhere and our anchor was just gripping a ledge with its 'fingernails'.
We sailed for Grand Cayman on Tuesday May 6th and arrived the next morning.
Grand Cayman
Grand Cayman is a major cruise port with up to six cruise ships visiting every weekday. The cruise ships just anchor off George Town while their tenders, snorkel excursions, dive boats, submarines, parasail boats, jetskis, etc. transport the happy holidaymakers around. It gets pretty busy there!
The harbor itself is a small area with two piers (north and south terminals) each 150' long facing each other about 150' apart. In the middle there is a large rock! On the day we arrived, with five cruise ships in town, there were 3-4 boats entering the harbor and 3-4 boats leaving all the time. We were required with our 25' beam to find our way through this, avoid the rock, and tie up to the north terminal for Customs inspection! It was a little intimidating but, amazingly enough, was completed without incident.
After clearing in we motored out to the nearby anchorage and picked up one of several moorings made available to transient boats for free (these guys care about their coral). Over the next couple of days, we bought groceries, had dinner in the Hard Rock Cafe, and picked up yet more engine parts we had ordered ahead from Little Cayman. We also visited Cathy Church's Underwater Photographic Store.
Our arrival coincided with celebration of the 500th Anniversary of the discovery of the Cayman Islands by Christopher Columbus. That weekend there was a street party with live music and food, and a parade of tall ships. The latter included Wolf (that we had seen at Cayman Brac) and several other schooners and traditional wooden boats.
After a few days (diving) we sailed around the northwest point of the island and entered the North Sound. We spent a couple of days there in relative solitude and checked out the famous Stingray City. Here lots of well-trained stingrays turned up while Ginger tried to feed them canned tuna! When she ran out, they left and we checked out the nearby coral heads. We also tried a couple of wall dives on the north side. Like our other dives in Grand Cayman, they were good dives but did not match Bloody Bay Wall at Little Cayman.
We returned to West Bay and tried some dives off Seven Mile Beach before returning south to George Town to clear out. Our last dive in Grand Cayman was near the anchorage and only about 1/4 mile from a cruise ship. Underwater, the noise was deafening!
We left Grand Cayman Tuesday May 20th. We originally planned to sail to Isla Mujeres in Mexico, just for a break of a day or two, but ultimately we decided to keep going. Winds were very light so we motored a lot, but at least the seas were calm. In the Gulf of Mexico, about 30 miles north of Cuba, we encountered a pod of pilot whales that rode our bow wave and played around the boat. We also encountered dolphins but that has happened many times before. We'd never seen pilot whales before!
Florida Keys
We arrived at the Dry Tortugas on Saturday May 24th. The Dry Tortugas are a National Park comprised of a few keys on a large shallow bank. The biggest key is almost entirely covered by a huge civil war era fort. There's a safe anchorage and some interesting diving. The visibility tends to be poor but we saw some different fish species.
We also did a trip 10 miles west of the Park to the Tortugas Bank, part of the Florida Keys National Marine Sanctuary. There are a number of dive moorings there at which we did three dives and stayed overnight. The diving was very good indeed, including excellent visibility.
After a week in the Dry Tortugas we reached Key West and cleared Customs June 2nd.
We spent three weeks in Key West. Ginger's sister and brother-in-law visited for a few days and Martin also flew back to California to attend the Graduation of his younger son Nick.
We left Key West on June 18th and got to Key Largo June 20th. We did a couple of dives at Molasses Reef off Pennecamp State Park and then moved on to Miami where we anchored off the city to buy our copy of Harry Potter and the Order of the Phoenix.
On June 26th we arrived at Port Canaveral. We spent the next day touring the Kennedy Space Center and learned that they were expecting a launch of a Mars Rover on Saturday 28th around midnight. This was quite a coincidence as our trip south passed Cape Canaveral the day of the launch of the ill-fated Columbia Shuttle. Saturday night we anchored 3.5nm off Cape Canaveral just outside the security zone and the debris zone. Unfortunately the launch was postponed so we went to be without seeing it.
Next morning we set off north for Brunswick where were arrived on June 30th.
Now we have just about finished putting Dos Gatos to bed for the Summer and in a few days we'll be out of here. We plan to come back at the beginning of October to prepare for next season.
I wonder where we should go? :-)