Cruising Season 2005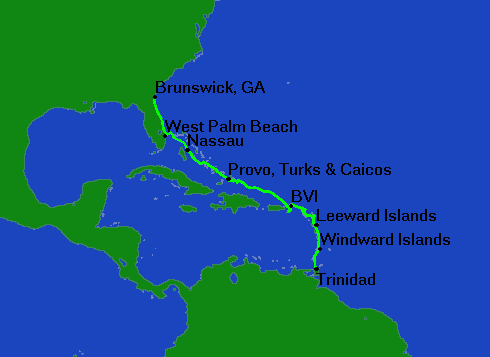 [ Bahamas ] [ Turks & Caicos ] [ US Virgin Islands ] [ BVI ] [ St Maarten ]

[ Saba ] [ St Barts ] [ Statia ] [St Kitts & Nevis ] [ Antigua ] [ Grenadines ]

Wednesday November 17th 2004

Don Gatos is still in Brunswick Landing Marina and we are preparing for our next cruise. We been aboard a couple of weeks now and we expect to leave here in early December.

Saturday December 11th

We left Brunswick and set sail for Port Canaveral. However, the conditions were worse than we were expecting with 25-30 knot winds and 4-6' seas. In one gust we lost one of our Textilene window covers! We chickened out and headed into Fernandina Beach for the night.

Sunday December 12th

We left Fernandina Beach under better conditions and set off south. We passed Cape Canaveral at dawn and pressed on. We reached Fort Pierce early afternoon but pressed on again because the weather forecast showed a cold front approaching which would probably keep us in our final destination for several days. We arrived at Lake Worth Inlet (West Palm Beach) around 10pm Monday. We typically avoid night-time arrivals, particularly with no moon, but we've been here several times before and there are enough lights around the lake to see pretty well.

Tuesday December 14th

We went ashore to do laundry and to visit Gold Coast Canvas to order a replacement Textilene window cover. The front arrived Tuesday night. It was very cold, windy and choppy. Dos Gatos did her complex dance when faced with strong opposing wind and tide. We were messing with our anchor bridle at 1am!

Wednesday December 22nd

We might have a weather window upon us, but the Bahamas forecast out a couple of days is very poor; 30-35 knot winds. I don't think we'll take it.

Saturday December 25th

Merry Christmas! We have our Christmas lights on each evening; generally while the generator is running because they suck a fair amount of power. In the evening we went ashore for dinner with fellow Norseman 430 owners Stu and Elizabeth Anne Bell. (Shearwater II's website is at www.Shearwater-Sailing.com).

Friday December 31st

We've been here over two weeks now. The weather still doesn't look promising. There's a high pressure area to the north which is causing strong northeast to east winds over the whole area.

Tuesday January 4th

Happy New Year! It looks like we might get out of here tomorrow. The Gulf Stream crossing conditions look OK.

We finished our business in town, ate a last supper at the Riviera Beach Marina's Tiki Restaurant, and left Lake Worth Inlet at around 5pm. We met the Gulf Stream right away and it took us north continuously until we were within a couple of miles of the Little Bahama bank. Consequently, as we planned to make directly for Nassau, in the early hours of Thursday we were motoring southeast, against the wind, down to the western point of Grand Bahama. Rather uncomfortable.

Thursday January 6th

Once in the Northwest Providence Channel conditions improved and we mainly motored southeast towards Nassau.

Friday January 7th

We reached Nassau late afternoon after a wind shift to east allowed us to motor sail. We anchored for the night off Athol Island to the east of Nassau.

Saturday January 8th

We sailed to Allens Cay at the north end of the Exumas where we plan a rest day before moving on south towards George Town.

Monday January 10th

We set off south in beautiful sailing conditions. With jib and reefed main we sailed all day from Allens Cay to Black Point, around 50 miles south. The wind started out on the beam, but moved forward as we went south and the route took us in a more south-easterly direction. We were close-hauled at the end, but never had to motor! We got into Black Point around 4:30pm.

Tuesday January 11th

We visited Black Point Settlement. Despite having traveled the length of the Exumas several times, we had never visited Black Point before. We have always stopped at Staniel Cay, 5 miles north, or Little Farmers Cay, 6-8 miles south. It's a neat, clean well-maintained town with a grocery store, laundromat and a few restaurants. We explored the beach, bought a few groceries, and returned in the evening for dinner at Lorraine's Cafe.

Friday January 14th

It looks like a possible weather window for George Town is coming. The south-easterlies are forecast to ease a little as a high pressure ridge to the north is finally pushed east, but a cold front is right behind it. Today we left Black Point and motored south to Rudder Cut, the most southerly exit into Exuma Sound we can reasonable get to.

Saturday January 15th

We motored 35 miles to George Town. In theory, Sunday may have been better but the front was coming faster and we didn't want to get caught by it. The trip was bumpy but tolerable. We left early and arrived around 1pm. Customs was supposed to be closed Saturday but there was someone there, who cleared us in.

Sunday January 16th

We fuelled up at Exuma Docking Services (permitting their dock to take a divot out of our gelcoat) and then went off to Red Shanks anchorage to wait out the cold front.

Wednesday January 19th

We seem to have a weather window coming up. One front's passed, another is stationary and weakening to our north, and another strong one is due off the US coast Sunday! Lots of fronts. The weakening one looks like giving us light northwesterlies for a couple of days. If the seas have settled we can get out of here. We want to go north to Conception Island.

Well, we're in Provo, Turks & Caicos! We left George Town midday Thursday intending to put our toe in the ocean, so to speak, and get as far as Calabash Bay at the north end of Long Island. From there we thought we'd probably go to Rum Cay to hide from Sunday's strong front. In the event, we decided that conditions were so good for a couple of days that we couldn't turn up the chance to make a comfortable passage to Turks & Caicos. So, here we are. We entered the Sandbore channel last night near midnight (36 hours elapsed) and anchored a couple of miles in. This morning we motored to Sapodilla Bay and cleared Customs. We'll hide out here until the front passes tomorrow and then probably go diving at French Cay. We have plenty of time now as we're here earlier than intended - we ditched our plan for a week's diving at Conception Island; we'll catch that on our return trip!

Thursday January 27th

We've been anchored at French Cay for a couple of days now. This area has some very nice dive sites but as the weather is a bit cool we haven't yet worked up the enthusiasm to go diving! The anchorage is OK but a bit rolly in the northerly wind and seas. We'll shortly go back to Provo in advance of another cold front.

Monday January 31st

Back in Sapodilla Bay, Provo, we rented a car to take care of a few chores. These included extending our visas for 30 days, getting a Cruising Permit, laundry, grocery shopping, and a couple of meals out.

Wednesday February 2nd

We refueled at Caicos Marina and Shipyard. This is about 6 miles east of the Sapodilla Bay anchorage but pretty easy to find and get into. We anchored outside while I reconnoitered the channel and fuel dock, and came in to fuel later. Afterwards, we sailed back to the Bermudian Harbor anchorage in anticipation of the front that's due in a day or two.

Wednesday February 9th

After conditions settled we sailed back down to French Cay on Tuesday. Wednesday we had our first dive this year, on a site called Rock and Roll.

Thursday February 10th

We left French Cay in anticipation of the next front and set off for Six Hills Cays on the east side of the Caicos Bank. We planned to anchor on the southeast side of Six Hills Cays, in anticipation of westerly winds when the front arrives, but the anchorage was poor. So we left there and motored a few miles to Cockburn Harbor, South Caicos.

After the front, in the next suitable weather window, we'll cross the Turks Passage to Grand Turk.

Saturday February 19th

We're at Grand Turk. We crossed from South Caicos Thursday and we're currently anchored just off the town (Cockburn Town). We've fitted in one dive but now the weather is expected to worsen for a few days.

Thursday March 3rd

We're back at Grand Turk. For the past week we've had our friends Larry and Janet aboard and we've been cruising the local islands. We went south to Salt Cay and Great Sand Cay to go whale watching (we spent some time shadowing a mother and calf) and we've visited several local uninhabited islands for snorkeling and beachcombing. Tomorrow they leave Grand Turk and we start making preparations to leave. Right now it looks like we'll be able to leave right away.

We arrived this morning in St Thomas, U.S.V.I. We motored into Charlotte Amalie harbor in a line of six cruise ships that passed us and tied up at the docks. The passage was reasonable. We motored the last 24 hours into a 10 knot wind but before that we'd sailed a reach pretty much the rest of the way. We had some lumpy and uncomfortable seas at times but the winds were always moderate.

We've decided, upon reflection, to change our game plan. We're now 1200 miles from Georgia (where we leave the boat during hurricane season) but only 600 miles from Trinidad which is also outside the hurricane belt. We're going to spend the summer in Trinidad and have a second cruising season in the eastern Caribbean.

Thursday March 10th

St Thomas is "civilization". We've ordered mail from the mainland, shipped off a generator part for repair, ordered engine spares, bought more cruising guides, done laundry, and bought groceries! But the port is very busy with typically three cruise ships coming here every day.

Saturday March 12th

We moved to Christmas Cove, in the lee of St James Island a few miles east of Charlotte Amalie. The anchorage is OK but busy and regularly hit by wakes from the high speed ferries that travel between St Thomas and St John and the B.V.I.

Tuesday March 15th

We've moved to the other side of St James, between St James and Little St James. It's not as well sheltered from the prevailing east, but right now the winds are from the northeast. We've visited two dive sites in the area; Cow and Calf and Ledges of Little St James. As our compressor is not working, we'll have to refill our tanks when we go back to Charlotte Amalie.

Friday March 18th

After two more days in Charlotte Amalie - collecting packages and engine parts, and filling scuba tanks - we left for St Croix. St Croix is 35 miles south of St Thomas and hopefully a quieter place. Diving is supposed to be good here too.

Saturday March 19th

We went into Christianstead (St Croix) for breakfast and happened upon their St Patrick's Day Parade. We also visited the Danish Fort protecting the harbor. In the afternoon we bought fuel (at $2.01/gallon!) and then left for Salt River Bay.

Tuesday March 22nd

We've spent 4 days in Salt River Bay, mainly because the wall diving just outside the gap in the reef is so good. Salt River Bay is a National Park with both natural and historical features. Apparently, Columbus stopped here and skirmished with the local Caribs. We did four dives here, getting our tanks filled at Anchor Diving in Columbus Bay Marina.

Thursday March 24th

We continued west to Fredricksted at the west end of St Croix. This is a smaller town than Christianstead but it has a long pier which is where the cruise ships come (occasionally). The area of the pier also has a reputation as a great dive site. We filled our tanks at Scuba Shack and dived it soon after arrival.

Monday March 28th

We dived the Fredricksted pier three times, once at night, and found that it lived up to its reputation. The stars were the two sea horses we saw on each dive, and the three octopi we saw on the night dive. Our other dive in Fredricksted was on a patch reef ("Swirling Reef of Death"). There is no wall diving at Fredricksted as the wall starts at 150 feet.

Tuesday March 29th

We almost left St Croix today! We set off for St Thomas but a few miles out, upon seeing that the conditions were good, and discussing our missed opportunity to tour St Croix by car, we dropped the sails and motored the 12 miles back east to Christianstead. We still had several packages to collect at St Thomas, including an important part of our generator, but we had a plan...

Wednesday March 30th

Martin went to St Thomas for the day. He flew there by seaplane, picked up our packages, and came back by V.I. Fast Ferry.

Thursday March 31st

We rented a car and toured the island. We had lunch at "Off the Wall" in Cane Bay at the west end, and dinner in the "Cultured Pelican" at the east end.

Friday April 1st

After returning the car and topping up our fuel (at $2.01/gallon) we left Christianstead and anchored at Buck Island. This island and surrounding reefs are a National Monument and reputedly offer good snorkeling.

Sunday April 3rd

Anchored off the beach at the west end of Buck Island, we are joined by dozens of boats on Saturday and Sunday. Some are charter boats, but most are local private boats. We took our dinghy around to the lagoon at the east end of Buck Island to snorkel the underwater "nature trail". The reef here is a huge accumulation of years of elk-horn coral growth.

Monday April 4th

We dived one of the dive sites around in the lagoon of Buck Island. We swam through huge piles of ancient elk-horn coral; very impressive.

Tuesday April 5th

We finally left St Croix and sailed the 35 miles to St John. We anchored in Caneel Bay, just north of the main town at Cruz Bay, and dinghied in to mail some letters and have dinner.

We motored the 6 miles from St John to Jost Van Dyke and cleared into the British Virgin Islands.

Friday April 8th

We motored over to Tortola and stopped in Cane Bay. It looks like we'll have to pay for a mooring every night ($20-$25) because all the anchorage areas are full of moorings. With the number of Moorings, Sunsail and other charter boats about, it's probably a good idea to put in all these moorings. We've never seen so many boats cruising around.

Saturday April 9th

We stopped in Soper's Hole, West End Tortola, for supplies. We had to cruise around the anchorage until a mooring came available! We visited the grocery store and Customs, to buy a permit for the National Trust dive moorings. (2$ per person per day - we bought 14 dives worth for $56.)

Sunday April 10th

Across to Normans Island to Privateer Bay. We dived a site off the point and then, as we were being bothered by bees, we motored around to The Bight. Again, a large anchorage but everything under 50 feet deep is occupied by moorings. There were many available when we arrived but the rest filled up by sunset. Then the partying began!

Monday April 11th

We motored out to The Indians, a group of rocks just off Pelican Cay. This popular area is supplied with commercial, day use and dive moorings although no one seems to bother about the color code. After a good dive we went back to Privateer Bay to spend time with the bees. It seemed they only wanted fresh water and, provided it was outside the cockpit, they didn't bother us.

Tuesday April 12th

Motored a mile or so to a dive site on Normans called Skylark Wall - "the closest thing to a wall in the BVI". Afterwards, we spent the night in Soldier Bay (without bees).

Friday April 15th

We've dived the Rhone, a famous wreck dive in the BVI. It wasn't a good day. We tied to a sheltered mooring and dinghied to the wreck as we didn't feel comfortable mooring our big boat over the wreck. Then we found strong current near the wreck which, because it's quite deep, makes for a short dive. Finally, we got lost and had to swim much further than necessary. We spent the night at Salt Island.

Saturday April 16th

We visited Ginger's namesake and dived Alice's Backside on the sheltered side of Ginger Island. We stopped for the night in Trellis Bay and ate at The Last Resort. We wanted to see the famous donkey, but he's died!

Monday April 18th

We visited The Baths, a rock formation at the southern end of Virgin Gorda. It was a poor day with a swell that caused surf on the beaches. We explored the trail ashore but were limited in the extent we could explore the rocks. We spent the night in Gorda Sound.

We cleared out of Virgin Gorda yesterday and motored overnight to Sint Maarten, the southern Dutch half of St Martin. The passage was good with headwinds less than 10 kts and a swell of 2-3 feet. We anchored in Simpson Bay, cleared in and slept.

Friday April 22nd

We moved into Simpson Lagoon to get away from the swell in the bay. The bridge opens only three times each day (inbound at 0930, 1130, 1730 right now). The lagoon is large but held probably hundreds of anchored boats. There are three or four marinas most of which seem to cater for mega-yachts. Also here are a good many marine businesses; diesel, electrical, and refrigeration engineers, and riggers. There's also a large Budget Marine store. We put our charger in for repair, ordered a new windlass and picked up a number of necessities.

Thursday April 28th

We spent a week at St Maarten and completed the various maintenance jobs that the local stores let us take care of. For example, we replaced both alternators and installed new automatic battery link switches. Also, the charger/inverter is now fixed and back in service.

We're still waiting for a couple of things so we've decided to leave and come back. Today we bought fuel and cleared out.

We motored in a dead calm the 25 miles to Saba; a tiny rock southwest of St Maarten. Saba is 3000 feet high but only 5 square miles so the shore just plummets into the depths. Much of the shoreline is marine park and we are only permitted to anchor in two places. The best spot on the leeward side is equipped with moorings in 60 feet. We took one of these and dinghied to Fort Bay harbor to check in.

In Saba we're only allowed to dive with a local dive operator so, after checking in, we went to see Mike at Saba Deep. Unfortunately he was full Saturday, so we signed up for a dive Sunday morning.

Saturday April 30th

We went ashore to see the island. We took a taxi out of Fort Bay to Windwardside to see a glass artist Ginger had read about. Then after lunch we walked back to The Bottom and then to the harbor. It's a beautiful island with virtually no flat areas!

Sunday May 1st

Two dives today; Mike and Oliver from Saba Deep picked us up from the boat. The first was on a pinnacle called Shark Shoal about half a mile off the north west point of Saba. The top of the pinnacle is at 90' so it was a deep (and short) dive. It was an interesting site but we weren't sure it was worth the trouble for 15 minutes on the bottom.

The second dive was on a mini-wall called Tent Reef Wall - pretty nice. After the dives we moved the boat to another mooring off Fort Bay because conditions seemed better there.

Monday May 2nd

Two more dives; with just Oliver and one other diver. The first dive was on the windward side of the island where he showed us a yellow frog fish. The second was on the west side where he showed us a sea horse!

In the evening we went into town and dined at The Gate House in Hell's Gate. Very good but expensive.

Tuesday May 3rd

We'd had enough of surging anchorages, and the wind is set to get stronger, so we left Saba and sailed back to St. Maarten.

Tuesday May 10th

Another week in St Maarten. Finally, everything has arrived. The new windlass has arrived from Italy at Budget Marine, and a part for Ginger's underwater camera housing has arrived from California. We've made a couple of dives during the past week and we've had our refrigeration serviced. This afternoon we left Simpson Lagoon and cleared out.

We anchored for the night at Ile Fourche which is part of Ile de Saint-Barthelemey (St Barts). It's an uninhabited island in a marine park. We dived there at the west and of the anchorage.

Thursday May 12th

We stopped at Anse de Colombier for another dive and then checked into St Barts at Gustavia. We looked around the town but didn't see any restaurant that served (vegetarian) food that interested us.

Friday May 13th

We dived at Pain de Sucre just off Gustavia and then motored back to Ile Fourche. We did a night dive there on the same site we dived before.

We had a pleasant 25 mile sail to Statia (St Eustatia). We cleared in and then wandered the town. Before returning to the boat we ate out at the Blue Bead Cafe.

Monday May 16th

We did 4 dives with Golden Rock Divers. Two of these dives were on one site called Blue Bead. This was a open sandy "muck dive" that turned up a number of interesting creatures, including Flying Gurnards! First time we've seen those.

We moved on to St Kitts. We checked in at Basseterre but we didn't much like the town - it was too dirty and busy. We moved down south to a secluded anchorage at Ballast bay.

Friday May 20th

After a few days hanging out in Ballast Bay, we moved on to Nevis. This seemed a much nicer town (Charlestown). We cleared out and had lunch in the town. Then we moved north to anchor off Pinner Beach.

We sailed for Antigua. Although Antigua is southeast of Nevis, the unusual light southerly winds let us sail directly across. We had a sailing wind for the first half of the trip, and when the wind moved forward, we motor-sailed the rest of the way. We anchored outside Jolly Harbour and went in to the marina for dinner.

Thursday May 26th

After clearing in we took care of chores like grocery shopping and prepared everything for the visit of Martin's son, Nick. We picked him up from the airport Thursday.

Sunday May 29th

We moved round to Falmouth Harbor (diving Cades Reef twice on the way) and visited Nelson's Dockyard. This is a restored 18th century British naval dockyard. We toured the dockyard and the nearby fort, and had lunch in the Admirals Inn..

Monday May 30th

We dived the Pillars of Hercules - just outside English Harbour. We dived it twice, once in the day and once at night.

Tuesday May 31st

We sailed back west around the island (using our spinnaker for the first time) and anchored at Deep Bay. We dived the wreck of the Andes in the middle of the bay, but the visibility was very poor.

Wednesday June 1st

We visited St Johns, the capital of Antigua, and saw the museum and the cathedral. We didn't like the anchorage so we motored north and anchored in Dickinson Bay.

Friday June 3rd

We spent two days in the North Sound and visited Great Bird Island - a beautiful nature preserve with interesting flora and avifauna.

Monday June 6th

After a couple more dives at Sandy Island and Cades Reef, we put Nick in a taxi to the airport. Then we bought groceries and fuel and cleared out.

Tuesday June 7th

We left Antigua intending to sail through the St Lucia, but at the end of the day the weather forecast led us to spend a night at Guadeloupe. We found a quiet bay and just anchored overnight with our yellow flag up.

Thursday June 9th

We set off again early Wednesday morning and as we'd gained a day decided to shoot directly for St Vincent and Bequia. Most of the trip went fine, but the last 50 miles from St Lucia was beset with 25-30 knot winds and large seas forward of the beam. We quit early and anchored in Chateaubelair Bay, St Vincent. Just as we got into St Vincent waters, we encountered a huge school (hundreds) of Spinner Dolphins. This are a littler smaller than Common Dolphins and have the mysterious habit of leaping into the air while spinning! I noticed that a batten car on the mainmast track was broken. Unless we stop somewhere to get it fixed (don't really have the time) we'll be sailing jib only for the rest of the trip.

We motor-sailed across to Bequia in ideal conditions. We cleared in and ate dinner at the Gingerbread Hotel. Bequia is a busy boating center with a large anchorage. Even now, it's busy with charter boats and cruisers.

We are only 20 miles north of the 12 degrees 40 minutes North line our insurers require us to be south of by July 1st. We also have a marina reservation in Trinidad (150 miles away) for July 1st.

Monday June 13th

We left Bequia and dived Pigeon Island just a little south. We anchored the boat behind Isle Quattre and dinghied about a mile and a half. Pigeon Island is pretty open and steep to, but we found a place to anchor our dinghy in the lee and made the dive. After, we sailed on south and stopped at Canouan.

Thursday June 16th

At the island of Canouan we anchored for two days in Rameau Bay, a little north of Charlestown, and dived off the point near the north end of the bay. Then, after a stop in Charlestown for groceries, we sailed towards Tobago Cays, but turned off to anchor on the windward side of the island of Mayreau. This Windward Bay is protected by the reefs between Mayreau and Tobago Cays. We dived a channel in the reefs (Snake Channel). It was a drift dive due to strong current and we took our dinghy with us on a long line. It was our first attempt at this type of dive and pretty successful. After the dive we moved on the Tobago Cays.

Saturday June 18th

The Tobago Cays are a group of 4 small islands encircled and protected by Horseshoe Reef. It was pretty with a lot of cruisers, charterers and day boats coming and going. We dinghied out through a small channel in the reef sna dived its outside slope. The reef was excellent, in pristine condition, and visibility was excellent too.

Sunday June 19th

The weather has kicked up in the last 24 hours. Last night several huge thunderstorms came through and the anchorage has become very bumpy. We abandoned Tobago Cays and moved to Saline Bay on the leeward side of Mayreau.

Tuesday June 21st

We motored to Union Island, almost the southernmost of the St Vincent Grenadines. The anchorage was small and crowded but we managed to find a spot behind the reef near the harbor entrance. We cleared out to Trinidad, and then did our last dive outside the harbor on Grand de Coi reef. Finally, we ate out at the Anchorage Yacht Club.

Wednesday June 22nd

The weather forecast wasn't good for departing to Trinidad, so we just motor-sailed to Grenada and anchored in Dragon Bay. We stopped early because the port engine needed a new raw water pump.

Thursday June 23rd

The weather is still not right so we decided to motor around to the south side of Grenada where there are many bays for anchoring that provide a good jumping off point for Trinidad. In the event the seas were too big so we stopped for the night in the first one, Prickly Bay. It was uncomfortably rolly on that occasion.

Saturday June 25th

We arrived early this morning in Chaguaramas Bay, Trinidad. The overnight passage wasn't too bad. The seas were 4-5' initially and almost calm by the end. The wind started at 15-18 kots and moderated to 10-15, generally out of the E/ESE. We motor-sailed all night because we didn't have a working main.

Chaguaramas is a very busy place with 6-8 large marinas and boatyards, with many associated marine businesses.

We tied up to the customs dock to clear in and then picked up a mooring. Our slip in Coral Cove Marina will be available Monday.

End of the 2004-5 Cruise of Dos Gatos!