Cruising Season 2004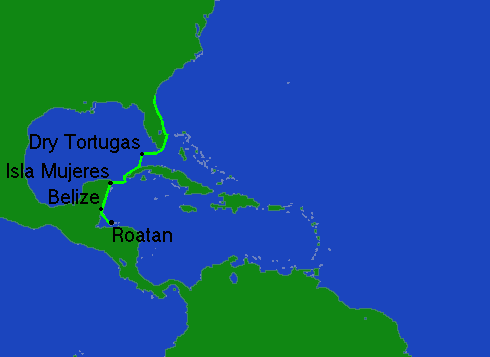 From November 2003 through to June 2004 we visited the Western Caribbean - Mexico, Belize and Honduras. Last season we had intended to visit Belize on our way back from the Cayman Islands but ran out of time, mainly due to an unplanned month in George Town, Exumas, with engine problems. So this year we went the other way, south west from Key West.
November 5th 2003
At long last we actually managed to leave for our cruise right at the end of the Hurricane Season! We left Brunswick Landing Marina November 5th and arrived in Lake Worth November 8th and on Monday Dos Gatos was hauled out at Rybovich Spencer boat yard. They used their 300 ton travelift which usually carries 100-200' yachts; we need this because of our beam.
While in the yard, we had new bottom paint, fixed the 'ding' in our starboard bow (that happened when we tied up to a huge steel mooring buoy at Cayman Brac) and did preventative maintenance on the saildrives and elsewhere.
Monday, November 24th
We fuelled up and left Rybovich yard and anchored out in Lake Worth overnight.
Tuesday, November 25th
Early Tuesday, we departed Lake Worth for Key West. We did the journey pretty quickly, in 4 longish days, because a cold front was forecast for Friday night. We anchored for the night at Miami (Stadium), Rodriguez Key (Key Largo) and Marathon, before arriving in Key West Friday. Off Miami we spotted HMS Bounty sailing slowly south!
We sailed part or most of each day because the winds were generally favorable, but we were buffeted by a nasty chop most of Thursday (Happy Thanksgiving!). On Friday we arrived in Key West and checked into Key West Bight Marina.
A few days after we arrived, Disney had a late night event in Mallory Square to celebrate the release of Pirates of the Caribbean on DVD. The highlight of this was a firework display followed by the arrival of HMS Bounty full of pirates! So, that's where it was going when we saw it off Miami!
Wednesday, December 3rd
After 5 nights in the marina, we moved out into the anchorage to do yet more maintenance and wait for suitable weather to leave for Dry Tortugas. There seem to be a steady stream of windy choppy days and sometimes the anchorage was pretty uncomfortable.
Sunday, December 7th
We went into Conch Harbor Marina to top up our fuel and water. Now we're really ready to leave, once Martin finishes servicing the generator!.
Wednesday, December 10th
We left Key West and after two nights at Boca Grande (15-20 miles west of Key West) we sailed on to the Dry Tortugas where we waited for weather for the crossing to Mexico.
We were in Dry Tortugas just over a week. The weather was fairly poor and we spent most of the time on board in the anchorage. We visited Fort Jefferson again and ventured out to dive the shallow dive site known as "The Windjammer". Visibility was poor and the water was cold so we didn't feel motivated to do any more diving!
On December 18th, Martin took the Fastcat ferry back to Key West overnight to see "The Lord of the Rings: The Return of the King". It was well worth the huge amount of money it cost to go see it (apart from the ferry and a hotel room, he had to scalp a ticket for $40 in order to get in as the movie was sold out)!
Saturday, December 20th
We departed for Isla Mujeres. Via the SSB Nets (Cruiseheimers on 8152kHz and NW Caribbean on 8188kHz) we made contact with Bob Cook on Blue Yonder in Naples, Florida (www.Ocean-Pro.com) who gave us constant input on weather and Gulf Stream location during the passage We sailed south-west towards Cuba and found the Gulf Stream very soon. We crossed it after 50 miles or so and then turned west along the north coast of Cuba - about 15 miles off. The wind was behind us all the way, but on Sunday the spinnaker halyard parted, dumping the sail in the ocean, so we had to continue under the jib, which slowed us down a little.
After rounding Cabo San Antonio, at the western tip of Cuba, we sailed south 30 miles on Bob's advice to improve our crossing of the Yucatan Channel. This was the worst part because the seas were on our beam, making the ride uncomfortable. When we turned west again on Monday morning, we started the engines to try to ensure that we made Isla Mujeres before dark. This strategy was successful and we dropped anchor in Isla Mujeres harbor at around 6pm.
We cleared into Mexico at Isla Mujeres. This involved visiting the Port Capitan (3 times), Immigration (twice), the bank (twice), the photocopy shop (twice) and the hospital! We had our first dinner out in a while.
Wednesday, December 24th
We prepared for Christmas. We put up our Christmas lights, three sets of multicolor 'tube' lights, and found a palm frond for a Christmas Tree. The lights use so much power (30A at 12v into the inverter) that we could only run them from sunset to around 10pm. If they'd been on all night we would have woken to flat batteries! It looked nice though.
Thursday, December 25th
We celebrated Christmas with a group of fellow cruisers at the Marina Paraiso. A couple of the ladies cooked the whole dinner for the very reasonable price of $8 per person. We took our last bottle of Beaujolais Nouveau to drink, and a couple of items for the mystery gift exchange game.
Wednesday, December 31st
We celebrated the New Year with another party at the Marina Paraiso, complete with a Mariachi Band.
Thursday, January 1st, 2004
Happy New Year! We went out of the harbor to make water and take a look at sea conditions. We'd like to go north to Isla Contoy, but it's too rough for now; the wind has been blowing at 20kts+ for days. Maybe in a few days.
Saturday, January 3rd
We left Isla Mujeres briefly to visit Isla Contoy, 15 miles to the north. There's a route inside the reef that the local tourist boats use but conditions were a bit rough for us to try it; it's reportedly shallow in parts and is only to be attempted in good "eyeball navigation" conditions. We went the outside route which is longer because it takes one around the north end of Isla Contoy.
On arrival, we anchored in the harbor area and were visited by the National Park Wardens. The whole island is a National Park and there are ecological restrictions on what we could do and where we could go. We paid 20 pesos per person per day, and signed a sheet saying that we'd follow the rules.
Every day boats bring tourists over from Cancun and Isla Mujeres, including a reproduction Pinta!
Sunday, January 4th
We visited the visitor center, looked around the museum, and climbed the observation tower. We hiked a trail through the dunes and to an internal lagoon where frigate birds were nesting.
Monday, January 5th
We took our dinghy and explored the shoreline of Isla Contoy for several miles. We saw lots of frigate birds, pelicans, brown boobies, and cormorants, plus a few roseate spoonbills, ospreys, oystercatchers and various other shorebirds.
Tuesday, January 6th
We returned to Isla Mujeres ahead of a forecast cold front.
Friday, January 9th
This was our "Tour Isla" day. We rented a golf cart for $45 and drove around the island. Non-stop it would take 40 minutes! Our primary stop was at Punta Sur where we walked along a trail by the ocean, visited the sculpture garden, and lunched.
Monday, January 12th
We cleared out of Isla Mujeres so we could leave for Belize in the morning.
Tuesday, January 13th
We spent the night at Hut Point, on the Mexican coast about 30 miles south of Isla.
Wednesday, January 14th
We arrived at Puerto Aventuras. There's no anchorage at Puerto Aventuras, only a marina entered through a tricky channel. Luckily, the dockmaster came out to lead us in.
The marina is part of a large development of houses and condos and around the marina. There are many excellent restaurants and stores. There's also a large dolphin encounter pool sectioned off from the rest of the marina. We spent two nights here.
Friday, January 16th
We sailed to Bahia de la Ascension. This is a huge bay that offers good shelter. Our first anchorage choice was just inside the reef at the north end but we found that too choppy. The next night we moved to a more sheltered location behind Calabra Cays. We spent two nights there.
Monday, January 19th
We sailed south around 20 miles to Bahia del Espiritu Santo, another large sheltered bay.
Tuesday, January 20th
We sailed to Chinchorro Bank and anchored by Cayo Norte. Chinchorro Bank is a large atoll around 20 miles off the Mexican coast. There is nothing there but a lighthouse, a Mexican Navy detachment, some fishermen, and excellent diving and snorkeling. We spent over a week there and did 3 dives. It was tricky finding water deep enough for diving as most of the area is less than 15 feet, but we found some deeper areas on the north edge and near the entrance channel.
The day before we left we endured a cold front passage in the anchorage. Winds were higher than we were expecting (over 30 knots) but our anchor held and we had a safe, if nerve-racked, night.
Wednesday, January 28th
Thinking the front was over, we left Cayo Norte in the late afternoon. Once outside the anchorage, we discovered 8 foot seas and the wind rose to 30 knots. Happily this was all behind us so, flying no more than a beach towel piece of jib, we sailed south at 7 knots.
We arrived in Belize. We skipped the reef entry at San Pedro. It was probably too rough and anyway we had passed it by dawn. We entered via Long Caye Pass and then motored north to San Pedro past Caye Caulker. We arrived in the early afternoon and cleared in.
Monday, February 2nd
After a few days in San Pedro we decided to go to the Belize offshore islands where the diving was reported to be best. We left via the San Pedro reef pass and sailed to Turneffe Atoll.
Tuesday, February 3rd
Because the winds were light we decided to motor out to Lighthouse Reef because it can be hard to get to because it's upwind. We anchored west of Long Caye and spent three days diving. Excellent diving! We shared around 8 moorings with the Nekton Pilot and a few smaller dive boats.
Saturday, February 7th
We moved around to the southeast side of Long Caye in advance of an incoming cold front. We stayed there a couple of days and found good shelter from the weather.
Tuesday, February 10th
We left Long Caye and motored over to Half Moon Caye. This island is a Belize Natural Monument and bird sanctuary. It has a lighthouse and a contingent of researchers. There is a large nesting colony of Red-footed Boobies and Frigate Birds, complete with convenient viewing tower.
Wednesday, February 11th
We found two dive moorings just south of Half Moon Caye and dived them Wednesday.
Thursday, February 12th
We returned to Long Caye to dive two more of the dive moorings there. We've pretty much dived all the dive moorings we've seen in the area; eight moorings on Long Caye and three near half Moon Caye. (There are a further two moorings off the reef east of Long Caye which we have not yet been to.)
Friday, Febuary 13th
Two more dives at West Long Caye, one of which was a night dive. Following the night dive we stayed on the dive mooring overnight. Luckily the weather was mild.
Saturday, February 14th
We found a further dive mooring near Half Moon Cay , that we had suspected through observing other boats, and dived it prior to returning to Long Caye, and another dive there. We anchored in the West Long Caye anchorage - which was a mistake. The weather was still mild but, during the night, a forecast cold front arrived 24 hours early and we woke to find 25-30 knot west winds and uncomfortable seas building from our unprotected western direction.
Sunday, February 15th
We couldn't wait for dawn and at first light, before breakfast, we motored around the south end of Long Caye to the more protected anchorage on the southeast side.
Monday, February 16th
As the weather had settled, we left the anchorage for another dive off Long Caye (where we saw a frog fish - the first one in 4 years looking!) and then motored to Half Moon Caye intending to visit the island again prior to returning to E Long Caye in advance of the next cold front, due Tuesday night. However, we were caught out for a second time and again woke to find 25-30 knot winds and heavy rain. It's not clear where this came from because the National Weather Service was forecasting 10-15 knots for the area. It must have been a local thing.
Tuesday, February 17th
The conditions in the anchorage were not as bad as our previous problem in the W Long Caye anchorage, but there was a front coming and it could only get worse. So we motored through 30 knot winds back to SE Long Caye taking the shallow route east of Long Caye. We only cleared a few inches above the bottom, but luckily the island gave us some shelter from the winds as we crossed the shoal. That anchorage was much more comfortable so we deployed a second anchor and waited for the front to arrive.
Friday, February 20th
By Friday the weather had settled so we repeated our Monday trip. We dived the same dive mooring again, this time with a camera, and the frog fish was exactly where we saw him before. We also photographed some painted tunicates. We then went on to Half Moon Caye.
Saturday, February 21st
On Saturday morning we visited the island to get some photos of the Frigate/Booby nesting colony. The island also boast large populations of iguanas and hermit crabs. We then left Lighthouse Reef (finally!) and motored over to the Turneffe Islands; 20 miles away.
We anchored near the (disused) light towers at the southern point of the islands. Turneffe comprises many many islands, it's less of an 'atoll' than Lighthouse Reef. There are several interior lagoons with fewer passes through from outside the reef.
Sunday, February 22nd
We did a dive northwest of Turneffe and anchored for the night inside the lagoon back south at Blue Creek. The dive sites on Turneffe are further apart and further from the anchorages than Lighthouse, so it takes us more time to dive.
Monday, February 23rd
We left Blue Creek early and fitted in two dives, one just outside Blue Creek and one up on the northwest side. Afterwards we sailed on and anchored at Rendezvous Point at the north end of Turneffe.
Tuesday, February 24th
We left Turneffe Islands and sailed to San Pedro, via Long Cay Pass.
We arrived during the San Pedro Carnival. The main activity we saw was lots of kids (and some adults) painting themselves, all over in some cases, and chasing each other around the streets. There were also groups of kids dressed up and dancing.
We stayed at San Pedro a couple of days to buy groceries and fuel, to do our laundry and pick up mail.
We cleared out of Belize to head for the Bay Islands of Honduras.
Friday, February 27th
We left San Pedro and sailed south inside the Belize barrier reef. We anchored for the night at Water Caye near the main ship channel into Belize City.
Saturday, February 28th
We sailed out through the ship channel intending to reach Turneffe Islands or Lighthouse Reef, depending on conditions. In the end we decided to keep going for the Bay Islands as the winds were forecast to shift from northeast to the east-southeast for several days. This would have kept us at Lighthouse Reef until the weather changed.
The first snag with this plan was that we had left too early in the day. It was 100 miles to Utila. We couldn't get there that day, and to get there after dawn the next day we couldn't average more than 4 knots. So we took the main down and sailed on under jib alone. The second snag was that overnight the wind shifted to the east earlier than forecast and our reach turned into a bumpy beat to windward.
However, we arrived safely in Utila early Sunday morning and waited until Monday before we cleared in.
We cleared into Honduras at Utila, the west-most of the three Bay Islands.
Utila is a nice little town, full of dive operators and young tourists with backpacks. Diving is cheap! $30 for a two tank boat dive, including rental of all gear! That would be $100-150 in California. The Bay Islands Aggressor liveaboard also showed up a couple of times.
There are also a couple of small supermarkets and a couple of reasonable restaurants.
We stayed in Utila 11 days, partly because the winds settled into a strong trade winds pattern with quite choppy seas outside. We did get in four dives on more settled days. We dived from our dinghy, because the dive moorings are only suitable for small boats, so all our dives were on the south side near the harbor. We did one night dive just outside the harbor entrance. The diving in this area was mainly walls, some steeply sloping, some more like sloping coral gardens. On the south side of the island (in Bahia de Utila) the water does not exceed 200' so these are not typical walls.
Thursday, March 11th
In calm conditions we motored 20 miles to Cayos Cochinos a small group of cays between Roatan and the Honduras mainland. It is a protected area and one must not anchor a boat anywhere. About 9 moorings are provided in the lee of the largest cay Cochino Grande, and we tied up to one of these.
Cochino Grande is about a mile wide with no facilities other than a small resort (Plantation Beach Resort) that maintains the overnight and dive moorings. There are a number of people living on the various cays in the group and each day we'd see the 'school bus' taking the kids two and from school. The Bay Islands Agressor showed up here too.
The second largest cay is Cochino Pequeno. (Check out the lonely tree!)
We stayed just over a week and and did 7 dives one of which was at night in the anchorage.
We dived two dive moorings in a bay on the north side of Cochino Pequeno, and 4 moorings on the north and west side of Cochino Grande. The topology was variable. The offshore water is 150' at most so even when there is a wall one can see the sandy bottom below. In several areas, massive coral outcroppings rise from sand at 30-50' up to 15' with lots of caves and swim-throughs.
Friday, March 19th
We left Cayos Cochinos early and motored 20 miles north to West End, Roatan. At first sight, the village is very similar in facilities and occupants to Utila; lots of dive operations, lots of young divers, and some restaurants.
Monday, March 22nd
We rented a car and spent the day touring the island. We visited the Botanical Gardens, the Butterfly Garden and the Iguana Farm.
We spent a week exploring the dive sites around West End. We dived from our dinghy and tried a number of sites on the northwest side of Roatan, up as far as Anthony's Key Resort.
Tuesday, March 30th
We sailed from West End, Roatan, to Utila. Our goal was to see and snorkel with a 25' Whale Shark. They're seen on the north side of Utila, on the edge of the Cayman Trench, and the local boats go looking for Whale Sharks during their surface interval. As we had no other way to dive the north side we went with a local dive operation (Deep Blue Divers). It was only on our third trip that they they manage to find some Whale Sharks. We all lined the boat's rail and then on the boat captain's word we jumped in. It was very cool and we have the 15 second encounter on videotape.
Tuesday, April 6th
We sailed from Utila overnight to Glover's Reef, Belize. We spent two nights off Long Caye and a further night off Southeast Caye.
This is the fourth and last coral atoll in this hemisphere for us to dive; we've visited Chinchorro Bank, Turneffe Islands and Lighthouse Reef already on this trip.
We did 4 dives off the southeast side of Glover's; one with the local dive operation, the remainder from our dinghy. More excellent wall dives.
Saturday, April 10th
We left Glover's Reef and sailed to Lighthouse Reef, our overall favorite dive destination this trip.
Monday, April 12th
After two days diving, we settled in our 'norther anchorage' southeast of Long Caye for a few days while a front passed.
Thursday, April 15th
The front over we motored across to Half Moon Caye for a few days, and did a dive at one of the sites south of the Caye.
Saturday, April 17th
We left the Half Moon Caye anchorage for the Nth time and through inattention managed to whack a coral head! :-(
The damage doesn't look too serious but it means an unplanned haul-out in a month or two for repairs.
We went back to Long Caye for a couple of days more diving.
Thursday, April 22nd
We departed Lighthouse Reef early and set off north. It was a beautiful sail until we left the lee of Lighthouse Reef. Then the wind and seas built. We had 20-25 knot E winds and 5'-8' seas - much higher than forecast. It made for an uncomfortable ride.
We also had battery charging problems; the starboard engine didn't charge at all and the port charger kept cutting in and out. Since the generator had developed an overheating problem the previous day, that we had foolishly decided to fix in Isla Mujeres, we were down to one half functioning alternator as our sole elctricity source!
Shortly after midday we decided enough was enough and turn west towards Belize. Cruising is supposed to be fun!
We entered surfing through Long Caye Pass and anchored for the night off Caye Caulker.
Friday, April 23rd
We motored to San Pedro and cleared in. Immigration needed a written statement explaining why our outbound clearance from Honduras gave our destination as Mexico, and why we had taken two weeks to reach Belize!
Then we had lunch out to celebrate our return to civilization, and went grocery shopping.
On the NW Caribbean Cruisers Net we heard several reports of bad conditions overnight offshore that made us glad we had chickened out!
Saturday, April 24th
I'm going into town later to update the web site.
The generator still overheats despite two days of work, but the starboard engine is now charging! I've just got to fix the generator before we run out of water! Then we'll wait for calmer conditions to head north.
Sunday, April 25th
I replaced the genset water pump and then discovered that I should have just replaced the rotor. It looked good but was really bad! At least it's working now.
Wednesday, April 28th
We cleared out of Belize and left San Pedro around midday. We made great time up the coast of Mexico having 2-3 knots of current with us. The winds were SE as forecast and although the seas were 3-5' as forecast they were lumpy and uncomfortable.
Thursday, April 29th
We took the west side of Cozumel to get a few hours calm water and then discarded our Plan B option of calling into Isla Mujeres as we set out into the Yucatan Channel. Over night we found both a strong current taking us north and a wind shift to the NE. As a result we went way to far to the north.
Friday, April 30th
We tacked and sailed east towards Cuba to get back nearer our planned track.
Saturday, May 1st
We sailed from Cuban waters in more lumpy seas and moderate SE winds. We had to keep our speed down to make the boat a little more comfortable and that forced us into another night at sea.
Sunday, May 2nd
We got into Dry Tortugas about 9am and gratefully dropped anchor. We immediately went to bed and slept!!
Tuesday, May 11th
We finally get out of the Dry Tortugas. Ever since we arrived the wind has blown steadily out of the east and seas have been forecast 4-6' bad conditions to have on the nose as we motor the 60 miles to Key West.
After 24 hours of unforecast lighter conditions, we decided to give it a go. Conditions were acceptable until we got near the Marquesa Keys when the forecast 20 knot winds showed up. We made it to Boca Grande and anchored there for the night.
Wednesday, May 12th
We motored into Key West, tied up at Key West Bight Marina, and cleared Customs and Immigration.
Sunday, May 23rd
We stayed in Key West over a week before continuing north. The strong easterly winds that had kept us in Dry Tortugas continued to blow. Eventually, they dropped to 15 knots and we motored east. First day we motored to Marathon and anchored west of Boot Key.
Wednesday, May 26th
We arrived in Miami and anchored in Miami Stadium, near Key Biscayne, our favorite anchorage in the area. North of Key Largo we had come into Biscayne Bay through Angelfish Creek, and today we motored north through Biscayne Bay to Miami.
Thursday, May 27th
We arrived in West Palm Beach for our second haulout this year.
Sunday, May 30th
We went into Riviera Beach Marina so we could drive up to Georgia to pick up Ginger's van. This will give us a home during the yard visit.
Thursday, June 3rd
We hauled out at high tide in Cracker Boy Boat Yard without incident. The yard agenda includes: minor damage to starboard rudder skeg (due to coral head in Belize), saildrive oil and seals service, bottom paint, and water tank leak. We'll probably be here 2 weeks.
Monday, June 21st
Back afloat again and anchored out in Lake Worth. Boat floats and engines run! :-)
Saturday, June 26th
After overnight stops in Fort Pierce and Port Canaveral, and an overnight sail, we arrived back in Brunswick Georgia to complete our 2004 Cruise.